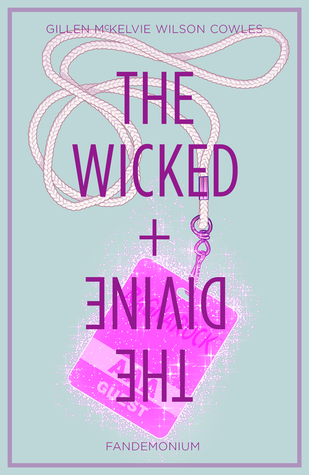 The Wicked + The Divine (Volume 1 & 2)
Gillen McKelvie & Wilson Cowles
2/5
Graphically this book is stunning the colours are vivid and the characters are so beautifully portrayed. Unfortunately the story is hard to follow, with a lack of background or proper introduction. The main character is an obsessive fan of the gods (who every 90 years get reincarnated into the bodies of teenagers) and gets wrapped up in their political battle. She goes on a mission to find out who framed one of them for killing a citizen, but it's all rather confusing and nothing really seems to be explained.
The second volume is a continuation of the first. With the same main character. The plot seems a little bit more cohesive, maybe because I've come to expect its format from the first book. But it's still rather confusing.




Michael has inherited a piece of land in the small town of Raven Wood from his recently deceased grandfather. But little does he know that the land is actually a cemetery, and one that the local mayor wants to see gone. However Michael is determined to make an informed decision, and goes on to befriend some of the ogly booglies that reside in the 'boneyard' only to find that they're not that evil after all.
The graphics and colours are simple. But the characters definitely make up for it, especially the supporting spooks. Definitely recommend if you want a bit of a spoof comedy with vampires and werewolves and the mix. Bonus the series is finished, with 7 volumes available in total.




Zombillenium (Volumes 1 & 2)
Arthur De Pins
5/5
As far as I know there are only 3 volumes currently out, but no news of anymore being made. Which is disappointing, as this series is great! Another spoof comedy about the lives of vampires and other nasties, who all happen to work at a theme park by the titles name 'Zombillenium'. The attraction of the park is its scariness, although none of the parks visitors are aware that the employees are actually undead ghouls.
.
There are a lot of antics, interlaced with sarcastic and sometimes dark humour. The graphic design is something I haven't come along often, which is all done in adobe illustrator which gives it a unique feel. If you want a quick, quirky read then I suggest grabbing a copy, the only disappointing aspect is the lack of follow up with more volumes.