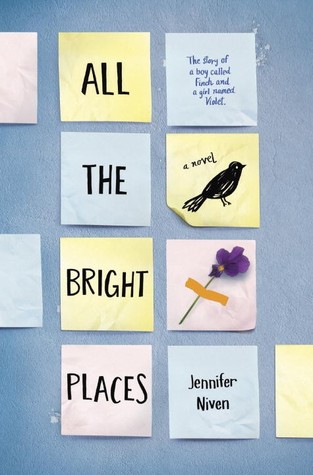 Synopsis
Theodore Finch
is fascinated by death, and he constantly thinks of ways he might kill himself. But each time, something good, no matter how small, stops him.
Violet Markey
lives for the future, counting the days until graduation, when she can escape her Indiana town and her aching grief in the wake of her sister's recent death.
When Finch and Violet meet on the ledge of the bell tower at school, it's unclear who saves whom. And when they pair up on a project to discover the "natural wonders" of their state, both Finch and Violet make more important discoveries: It's only with Violet that Finch can be himself—a weird, funny, live-out-loud guy who's not such a freak after all. And it's only with Finch that Violet can forget to count away the days and start living them. But as Violet's world grows, Finch's begins to shrink.
This is an intense, gripping novel perfect for fans of Jay Asher, Rainbow Rowell, John Green, Gayle Forman, and Jenny Downham from a talented new voice in YA, Jennifer Niven.


My Review
So this review is going to be filled with quotes, because this book is just so damn beautiful that I can't help but share Jennifer Nivens writing. And to start, one of my favourite quotes of the book, (even though technically it's not Nivens).
"We do not remember days, we remember moments"—Cesare Pevase
Listening to this as an audiobook is one of the best decisions I could have made. It brought a new sense of depth to the story and made the characters tangible. The voice actors did a superb job and brought the characters to life in such a way that it was that much harder to let go of them in the end. Told in alternating perspectives, we get a glimpse into both Violet and Finch's lives and get to explore their feelings, both good and bad right alongside them.
"He smiles out at the ugly trees and the ugly farmland and the ugly kids as if he can see Oz. As if he can really, truly see the beauty that's there. In that moment I wish I could see it through his eyes."
- Jennifer Niven (All The Bright Places)
Violet is suffering from the loss of her older sister. Still not quite over the night of her death, she has been getting through life by excusing herself due to 'extenuating circumstances'. But when Finch saves her from making a potentially fatal decision atop the school bell tower, it starts a whirlwind of friendship which teaches her to live and love again. Finch, knows exactly what it's like being in a dark place, he takes Violet from this place and shows her the beauty in life, all the while spiraling down a rabbit hole of his own.
Finch was a fascinating character. His quirks, while endearing were interpreted by his fellow students as being weird, nicknaming him the 'freak'. His attempts to create different types of 'Finch'; 80's finch, British Finch etc show the struggles that many young people go through to discover who they are and where they fit in. Unfortunately for Finch, somewhere along the way he lost who he really was.

Bittersweet. That's how I would describe All the Bright Places. The juxtaposition of light and dark was done beautifully. There are moments of pure delight and beauty between Violet and Finch, especially during their moments of travel and discovery. These are then contrasted with the dark, numbness of mental illness and the self-depreciating thoughts that come with it.
"A string of thoughts run through my head like a song I can't get rid of, over and over in the same order: I am broken, I am a fraud, I am impossible to love"
- Jennifer Niven (All The Bright Places)
"You have been in every way all that anyone could be….If anybody could have saved me it would have been you"
- Virginia Woolf (appearing in. All The Bright Places)
I would highly recommend this book to any reader YA or otherwise. While I know issues such as mental illness do not appeal to all readers (myself normally included). This book has such a beauty about it despite its darker themes, and Nivens beautiful writing has a way of making you, laugh, love and cry all at the same time. Most of all, if you have the opportunity to listen to this as an audiobook I urge you to do so.
My rating: 5/5