Soundtrack Saturday is a meme created and hosted by The Hardcover Lover! So what is Soundtrack Saturday? It's a feature about bookish playlists! Each Saturday, I choose a book and post a playlist based on it!
As with all bookish memes, there are a few easy steps to follow to help you create your own perfect Soundtrack Saturday post:
Choose a book that you've read or are currently reading - any book is fine as long as you can create a playlist for it
Create a full (10+songs) or a mini (four songs) playlist for the book of your choosing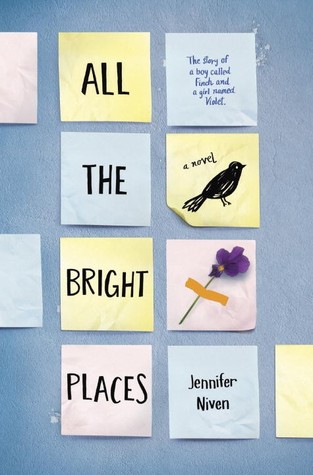 All The Bright Places Soundtrack
2. You are the Best Thing- Ray LaMontagne

3. Big Jet Plane- Angus and Julia Stone

4. To Build a Home- The Cinematic Orchestra

5. No One's Gonna Love You- Band Of Horses

10. 9 Crimes- Damien Rice


I hope you enjoyed my playlist for All The Bright Places. There's a definite trend from light music at the start and then into darker music which is a pretty accurate reflection of this book. All The Bright Places has a dark undertow throughout with moments of pure happiness and delight...probably one of my favorite reads this year.