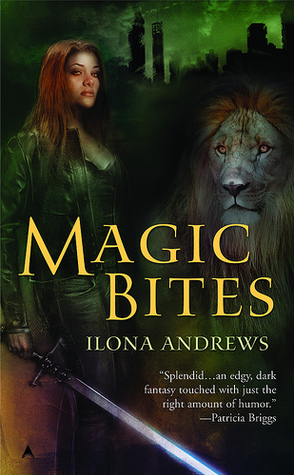 Synopsis
The world has suffered a magic apocalypse. We pushed the technological progress too far, and now magic returned with a vengeance. It comes in waves, without warning, and vanishes as suddenly as it appears. When magic is up, planes drop out of the sky, cars stall, electricity dies. When magic is down, guns work and spells fail.
It's a volatile, screwed-up world. Magic feeds on technology, gnawing down on skyscrapers until most of them topple and fall, leaving only skeletal husks behind. Monsters prowl the ruined streets, werebears and werehyenas stalk their prey; and the Masters of the Dead, necromancers driven by their thirst for knowledge and wealth, pilot blood-crazed vampires with their minds.
In this world lives Kate Daniels. Kate likes her sword a little too much and has a hard time controlling her mouth. The magic in her blood makes her a target, and she spent most of her life hiding in plain sight. But sometimes even trained killers make friends and fall in love, and when the universe tries to kick them in the face, they kick back.
-
Goodreads.com
Oh Urban Fantasy how I have missed you. It's been a long time since I've visited your realm of kick- ass heroines, muscled spunky men, vampires, shape-changers, lust filled nights and just a whole lot of bad-assery, and you did not fail too deliver. While most urban fantasy has a relatively formulaic plot and characters, this did not deter me from Magic Bites. If anything it drew me in more, knowing what I was getting myself in to.
Kate Daniels, is a mercenary living by her own rules in a magic fuelled Atlanta city. After her mentor and father figure is gruesomely murdered. She takes on the case of finding his killer, which leads her down the path of trouble. Along the way she forms a sort of union with the local shape changing pack who have lost their own men in the recent Atlanta killings and together they begin to unravel the mystery of the killings.
While I really enjoyed the plot of this book, at times I felt there were things that definitely could have been explained further. I felt like the book throws you in right at the start and the explanations of the world are a little sparse until later down the track. For example Atlanta is both magic and tech fuelled, at one time or another either one is in control. In times of magic, beasties gain more power etc and anything tech driven goes on the fritz and vice versa.
Kate is an easily likeable character, and reminds me of Buffy the Vampire Slayer. She's a bit of a bad ass, and a lone wolf. But at the same time I get the feeling she's lonely and seeking more from her life, although these emotions aren't explored in too much depth in this book. Curran, leader of the Shapechangers, is hot as hell. But I'm not completely convinced on him yet. There are times when he make my ovaries explode and others when his attitude and actions border on abusive, but then again his animal form is a lion, so I guess anger and rage are intermingled into his character.
Overall a really great read if your into urban fantasy or even if your new to it. Definitely filled with action and adventure and a few steamy scenes here and there (that unfortunately don't actually come to fruition), but set us up for a great series of sexual tension.
My rating: 4/5