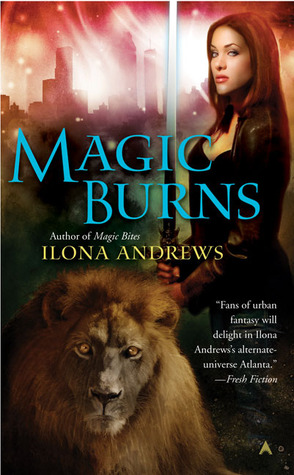 Synopsis
Down in Atlanta, tempers – and temperatures – are about to flare…
As a mercenary who cleans up after magic gone wrong, Kate Daniels has seen her share of occupational hazards. Normally, waves of paranormal energy ebb and flow across Atlanta like a tide. But once every seven years, a flare comes, a time when magic runs rampant. Now Kate's going to have to deal with problems on a much bigger scale: a divine one.
When Kate sets out to retrieve a set of stolen maps for the Pack, Atlanta's paramilitary clan of shapeshifters, she quickly realizes much more at stake. During a flare, gods and goddesses can manifest – and battle for power. The stolen maps are only the opening gambit in an epic tug-of-war between two gods hoping for rebirth. And if Kate can't stop the cataclysmic showdown, the city may not survive…
-
Goodreads.com


My Review
Ilona Andrews totally blew me away again. Kate Daniels is such an amazingly strong female lead, who takes shit from no one. Despite being a lone wolf, Kate constantly manages to find herself in the centre of trouble surrounded by faithful friends and foes alike joined for the same cause, this time to save the world from an apocalypse.
I think what I loved most about this book besids the overall plot was the development of Kate and Currans relationship. It's one of those love-hate deals, where they're both fighting for the upper hand, but also manage to support and be there for each other in times of desperation...and the teasing...don't even get me started. Curran knows how to make a girl weak in the knees.
'A slow, lazy

carnivorous smile touched Curran's lips. "Not only will you sleep with me, but you will say 'please'".
I stared at him shocked.
The smile widened. "You will say 'please' before and 'thank-you' after".
- Ilona Andrews (Magic Burns)
Even though it is marketed as adult, there isn't any explicit sex scenes so far yet (although I'm keeping my fingers crossed haha). But if you like a good romantic build-up with lots of strained conversation, teasing and sarcasm and a love-hate relationship then this is the book for you.
There's chemistry, fighting, sarcasm, an archer who can disappear into mist, magic, tech, shape-shifters. You name it, it's likely to be found in this series. Overall a great adult urban fantasy that I highly suggest. It is addicting and will keep you entertained throughout.