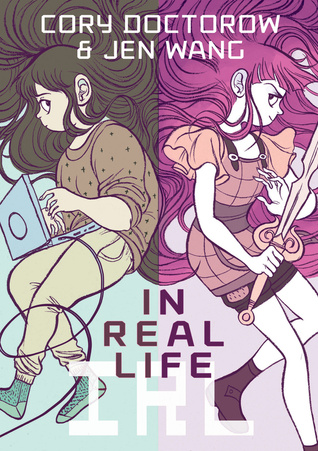 Synopsis
Anda loves Coarsegold Online, the massively-multiplayer role-playing game where she spends most of her free time. It's a place where she can be a leader, a fighter, a hero. It's a place where she can meet people from all over the world, and make friends.
But things become a lot more complicated when Anda befriends a gold farmer--a poor Chinese kid whose avatar in the game illegally collects valuable objects and then sells them to players from developed countries with money to burn. This behavior is strictly against the rules in Coarsegold, but Anda soon comes to realize that questions of right and wrong are a lot less straightforward when a real person's real livelihood is at stake.
From acclaimed teen author (
Little Brother
,
For the Win
) and Boing Boing editor Cory Doctorow and
Koko Be Good
creator Jen Wang,
In Real Life
is a perceptive and high-stakes look at adolescence, gaming, poverty, and culture clash.
-
Goodreads.com


My Review
I went into IRL (In Real Life) knowing that it was a book about a girl gamer and little else. And maybe had I not read the foreword that's what it would have remained. However, by chance since I NEVER read the authors notes at the beginning regarding their inspiration for the story. I got drawn into Cory Doctorow's development of IRL and the secret messages of economics and politics it entails.
The story of IRL surrounds Anda and her joining of an online game guild in which she's inducted into the ranks and learns that she can make real life money killing 'gold farmers' which are usually bots/code created by people to farm items which they sell in the real world for money; something which is considered illegal in game. But not all gold farmers are bots and Anda learns this when she befriends a boy who lives all the way in a Chinese Province who 'farms' for 12hours a day just to earn money (which he probably sees little of). Suddenly not everything is black and white, especially when you get to know the person behind the screen.
In short, IRL is a story about a girl gamer who finds herself a major player in a MMORPG. For those of you not who are not fluent with nerd speak that's a Massive Multiplayer Online Role-playing Game. But it's also much more than that. It's about the internet and the way it can bring people together from all over the world onto common ground, for a particular cause. Whether that be something simple such as the organisation of a siege on the dragon of Um-thor-Quor, or to rally for real life peace protests. It puts into perspective how the power of the internet can be used for more that just googling your name, and looking at cat memes.
This was such a short easy read, but with a lot of heart and an interesting focus not often seen in YA. Thoroughly enjoyable!!
My rating: 5/5