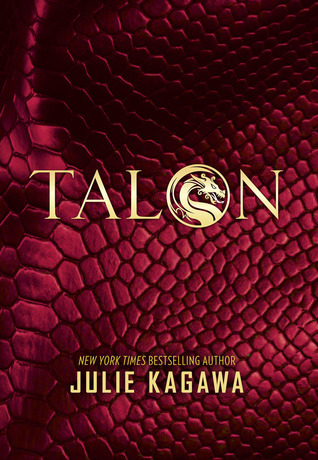 Synopsis
Long ago, dragons were hunted to near extinction by the Order of St. George, a legendary society of dragon slayers. Hiding in human form and growing their numbers in secret, the dragons of Talon have become strong and cunning, and they're positioned to take over the world with humans none the wiser.
Ember and Dante Hill are the only sister and brother known to dragonkind. Trained to infiltrate society, Ember wants to live the teen experience and enjoy a summer of freedom before taking her destined place in Talon. But destiny is a matter of perspective, and a rogue dragon will soon challenge everything Ember has been taught. As Ember struggles to accept her future, she and her brother are hunted by the Order of St. George.
Soldier Garret Xavier Sebastian has a mission to seek and destroy all dragons, and Talon's newest recruits in particular. But he cannot kill unless he is certain he has found his prey: and nothing is certain about Ember Hill. Faced with Ember's bravery, confidence and all-too-human desires, Garret begins to question everything that the Order has ingrained in him: and what he might be willing to give up to find the truth about dragons.
-
Goodreads.com
James' Review
I've just finished reading "Talon" by Julie Kagawa at Elle's recommendation and she asked me to write a guest post for her blog.
As a bit of an introduction I thought I should warn you all, normally I'm a fantasy genre kind of guy. My first real taste of fantasy was the Redwall series by Brian Jacques. Growing up I reread those books over and over and they would be some of the most well-worn books on my shelves.
I've always been drawn to authors who excel at secondary world creation; think Robert Jordon's Wheel of Time, Brandon Sanderson's Mistborn, or Raymond E. Feist's Riftwar Cycle. But from time to time when I'm suffering from a book hangover I like to delve into something lighter. Elle's recommendations have never failed me yet and I know when she says I'll enjoy something I won't be able to put the book down.
Anyway, enough about me, onto Talon. The best way I can describe Talon would be "Beauty and the Beast" meets "Romeo and Juliet". That being said I'm a sucker for any Beauty and the Beast retelling and on the flip side I despise Romeo and Juliet. Classical writing fans hate me all you like but R&J is just plain annoying. Not even Leonardo DiCaprio can make that stuff interesting. Maybe, I'm just a sucker for a happy ending.
Sorry, getting off track again.
The book centres around Ember, a young dragon, who has been assigned the task of infiltrating human society by the dragon organisation, Talon. She and her brother Dante have been trained since birth to be "sleepers" behind enemy lines. Talon has placed Ember and Dante in a Californian beach town for the summer holidays where they must learn to infiltrate, engage, and appear human in their final stage of training before becoming full-fledged Talon operatives.
Little does Talon realise that Ember has plans to use this time away from the organisation to finally begin to have a life of her own. This summer will be Ember's chance to get away from Talon strict routines and the constant threat of the Order of St George, the Dragonslayers.
On the flip side we have Garret Xavier Sebastian who is the perfect St George soldier. He has been with the Order since he was a child after a dragon killed his parents and has numerous dragon-kills against his name. His latest mission sends him to a small beach town where he must track down and eliminate a young Talon operative. When he meets Ember he thinks he has found his dragon. However, her all-too-human actions and desires make Garret question the Order's doctrine he has believed since his parents were taken from him.
"
Startled by my own thoughts, I leaned back and rubbed my eyes. What was wrong with me? I was a soldier, trained to keep emotions in check at all times. I could face down a charging dragon and show no fear. I could endure two hours of my superior screaming in my face and feel nothing. What was it about Ember that was different?
"
- Julie Kagawa (Talon)
As an additional element, Ember's world is turned upside down when a rogue, ex-Talon dragon shows up in town who begins making her think Talon is not what she thought it was.
I felt the development of the main characters was well done. It's good to see their beliefs are challenged as the story progresses. The relationship triangle which develops, as the two halves of Ember war with one another, adds an interesting level of complexity. The author has steered away from the over-used one light (good) and one dark (evil) male love interest.
I felt Talon was a great base from which the author can build on the rest of the series. I could draw similarities to the dreaded Twilight and even the Divergent series but I won't. I feel this book has enough original thought to be a good read and has potential to be a great series.
Overall, I'd give Talon a 3.5 / 5. But I'm probably just being prejudiced and it deserves more.
P.S. Elle, please stop recommending books where the series isn't finished. It is annoying to not be able to sit and finish a series from start to finish without having to wait through the intervening years between each release.
Thank-you so much to my lovely partner James for writing this review for me. I'm glad you enjoyed the book :)