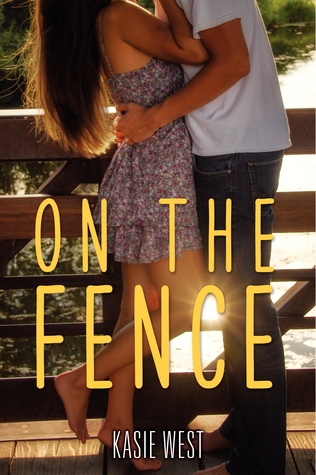 Synopsis
For sixteen-year-old Charlotte Reynolds, aka Charlie, being raised by a single dad and three older brothers has its perks. She can outrun, outscore, and outwit every boy she knows—including her longtime neighbor and honorary fourth brother, Braden. But when it comes to being a girl, Charlie doesn't know the first thing about anything. So when she starts working at chichi boutique to pay off a speeding ticket, she finds herself in a strange new world of makeup, lacy skirts, and BeDazzlers. Even stranger, she's spending time with a boy who has never seen her tear it up in a pickup game.
To cope with the stress of faking her way through this new reality, Charlie seeks late-night refuge in her backyard, talking out her problems with Braden by the fence that separates them. But their Fence Chats can't solve Charlie's biggest problem: she's falling for Braden. Hard. She knows what it means to go for the win, but if spilling her secret means losing him for good, the stakes just got too high.
-
Goodreads.com


My Review
Kasie West is fast becoming an author that I will keep reading. This is only my second book by her and I enjoyed it even more than the first. She has an amazing knack for capturing friendships and family dynamics.
This book in particular had a beautiful family dynamic, something I can only be envious of as an only child. Charlie has 4 brothers…well 3 actual brothers and the boy next door who might as well be one of the family. All 4 of them are super overprotective of her, even going as far as to cover up a family secret to protect her. One of my favourite things about them is there cheeky lists of un-dateable qualities in a boy like….
"Never date a guy whose jeans don't cover his ankles"
"Never date a guy who likes V8…because you can't trust a guy who drinks his vegetables"
.
- Kasie West (On the Fence)
It's hard to say exactly what this book was about. Because going into it I was expecting a typical YA contemporary. However, Kasie West manages to write about more than teen romance in her books. On the Fence is a story of a girl growing up with very little female influence in her life and how she's learning to adapt to being a 'woman' for the very first time…makeup and all. To top it all off she's also falling for the boy next door… the one who's been best friends with her family since they were kids.
I liked that Charlie's character was so unique. She was a tomboy, who was into sport and hanging out with the boys. Something that she tried to change, when she thought it was seen as undesirable to the opposite sex.
"Guys don't want a competitor, they want a cheerleader. So excuse me if I feel like I have to compromise a little of who I am to make a guy actually look at me like I'm not his teammate."
- Kasie West (On the Fence)
My favourite aspect of the book was the sibling relationships. Charlie and her siblings were so much fun to read about, the teasing, goofing off and rough housing that ensued was pure magic. I also had a soft spot for Charlie's dad. While he didn't feature a lot in the book, the moments he appeared in were touching and showed just how much he was trying to raise a daughter and provide her with everything maturing girl's need, which was clearly out of his comfort zone.
The romance was also super adorable. But I'm a sucker for a boy next door. If you're looking for a good book to finish off your summer, I would give this one a go. Kasie West knows how to write a heartfelt book.
My rating: 5/5