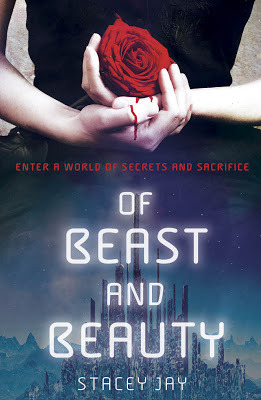 Synopsis
In the beginning was the darkness, and in the darkness was a girl, and in the girl was a secret...
In the domed city of Yuan, the blind Princess Isra, a Smooth Skin, is raised to be a human sacrifice whose death will ensure her city's vitality. In the desert outside Yuan, Gem, a mutant beast, fights to save his people, the Monstrous, from starvation. Neither dreams that together, they could return balance to both their worlds.
Isra wants to help the city's Banished people, second-class citizens despised for possessing Monstrous traits. But after she enlists the aid of her prisoner, Gem, who has been captured while trying to steal Yuan's enchanted roses, she begins to care for him, and to question everything she has been brought up to believe.
As secrets are revealed and Isra's sight, which vanished during her childhood, returned, Isra will have to choose between duty to her people and the beast she has come to love.
-
Goodreads.com
My Review
Of Beast and Beauty is a loose retelling of Beauty and the Beast but with an almost dystopia feel to it with the added undertows of an Asian background (or maybe it was just the names that threw me.) Unlike the original, in this story the beast is held captive, by the Princess after attempting to steal roses from the sacred garden in the domed city of Yuan. Which he believes to be the salvation of his people who are slowly dying out in the desert.
Isra; the Princess of our tale, has so many elements to her. Being blind, has meant that she has been hidden and held captive from the city by her father for most of her life. Upon his death and her success to the throne she is still constantly kept in the dark. She is seen as weak and unable to truly rule a city. However despite this weakness, her character is defiant and strong and lives her own life in spite of her disability. Every night she rebelliously crawls out of her tower to visit the sacred garden and explore a city where she has never been truly accepted due to her slightly monstrous deformities. She even ventures outside of the domed walls of her city to help her people, in search of a cure for the monstrous deformities plaguing some of its civilians.
Gem; our beast, our monster, is deeply complex. His character develops so much over the course of the book. In the beginning when he is captured, all he wants it to escape and fulfil his duty of stealing roses from the sacred garden to help save his people who are nicknamed the 'monstrous' by the domed and live outside the city walls. He hates Isra and all that she and her city stand for. He thinks that she is selfish and naïve to the world. However after spending to with one another, he sees that she is nothing like the people who truly rule the city and wants to help her.
"

Its pointless. Hopeless. Even if she weren't afraid of me, we'll always be enemies at the core. She rules a wicked, selfish city, and my tribe suffers for her peoples comfort. Shes a queen; I'm her prisoner. I resent her and she fears me, and there are times when I fear her, too. I am her monster, and she is mine. But right now none of it matters.

"
- Stacey Jay (Of Beast and Beauty)
The book is told from two perspectives, which means you really get into the minds of each character, understanding their motives, their hopes, their feelings. Both of the characters are written extraordinarily, and they each grow and develop so much throughout the book. The romance between them is not overdone, and is sweet and buddy like a rose.
Things I loved about the book:
The intro was beautifully written and explained how the division between the Monstrous and city inhabitants came to be, and how the curse began.

The slow developing romance, that happened gradually and authentically.

While the curse differed from the original, the symbolism still remained.

My rating: 4/5
Do you like reading re-tellings? What is your favorite fairy tale?