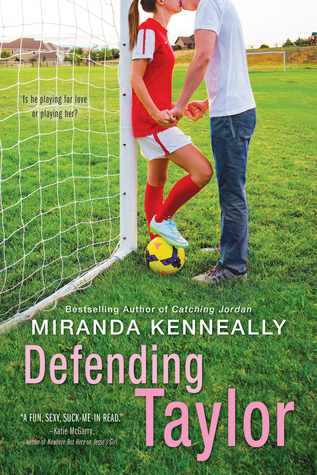 Synopsis
There are no mistakes in love.
Captain of the soccer team, president of the Debate Club, contender for valedictorian: Taylor's always pushed herself to be perfect. After all, that's what is expected of a senator's daughter. But one impulsive decision-one lie to cover for her boyfriend-and Taylor's kicked out of private school. Everything she's worked so hard for is gone, and now she's starting over at Hundred Oaks High.
Soccer has always been Taylor's escape from the pressures of school and family, but it's hard to fit in and play on a team that used to be her rival. The only person who seems to understand all that she's going through is her older brother's best friend, Ezra. Taylor's had a crush on him for as long as she can remember. But it's hard to trust after having been betrayed. Will Taylor repeat her past mistakes or can she score a fresh start?


Review
After a 'misunderstanding' in which Taylor takes the fall for her boyfriend, she is expelled from her boarding school. The fallout of her choice affects not only her and her future but her family, specifically her father's senator campaign. Taylors world starts to collapse and everything she has worked so hard for starts to fall away… her future at Harvard is not as unquestionable as it once was. Not only has she lost her friends, boyfriend and the trust of her parents… add to that starting a new school.
Personally I couldn't connect with Taylor as I have previously with the authors other characters. I felt she didn't think things through properly and her rash decisions caused her to be in that situation in the first place. However, I did admire her dedication to her future, she was hardworking and a good team player when it came to soccer. Mostly I admired her ability to forge her own path and make the most of the situation she was in. She broke the yoke of her family's expectation in regards to her future and chose to do what felt was right for her, instead of majoring in business which was expected.
However, the overall plot was somewhat predictable, along with the romance between Taylor and her brother's best friend Ezra who she hasn't talked to for many years, after a misunderstanding. While it was an OK read, it was not my favourite of Miranda Kenneally's work and I feel she has much better books in her 'Hundred Oaks' series to choose from.
My Rating 3/5