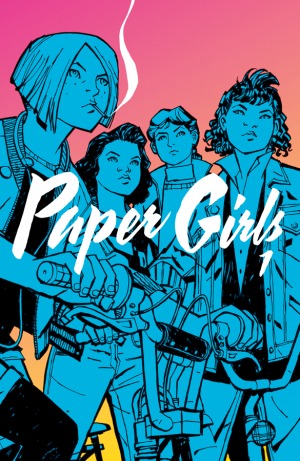 Synopsis
In the early hours after Halloween of 1988, four 12-year-old newspaper delivery girls uncover the most important story of all time. Suburban drama and otherworldly mysteries collide in this smash-hit series about nostalgia, first jobs, and the last days of childhood.
-
Goodreads.com


My Review
* Many thanks to the publisher for providing me this ARC via Netgalley in exchange for an honest review. *
As soon as I saw this up for grabs on Netgalley I had to read it. As a huge fan of Brian K. Vaughan I was undoubtedly not disappointed with his latest graphic novel series.
The story centres around 4 pre-teen girls who all have paper runs. Early post Halloween morning in the year 1988, they all run into one another and stumble upon some freaky stuff… and I'm not talking Halloween freaky, I'm talking pterodactyls flying in the sky, disappearing adults and time-travellers.
While the premise had a lot going on, with many elements coming in to play, there were a few instances where I yearned for more explanation as to what was going on or a little more backstory. But what I've learnt is that Vaughan is all about the slow reveal. The artwork on the other hand was spot on. I was a huge fan of the stylization and colour tones/palette.
While it was not my favourite work of Vaughan's, this series has a lot of potential and I can't wait for future instalments.
My rating: 4/5