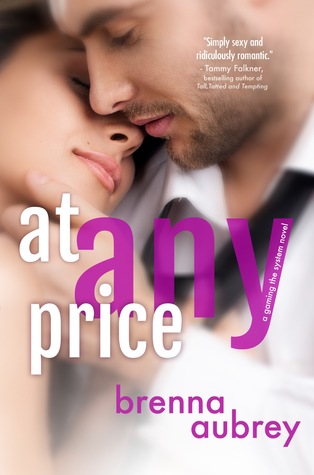 Synopsis
Achievement Unlocked: Geek Virgin
When Mia Strong, proud geek-girl and popular gaming blogger, auctions off her virginity online, she knows she'll make waves. But what she will not be making is a love connection. Her rules are set in stone: One night. No further contact.
It's a desperate step, but it's the only way she can go to medical school and pay her mother's mounting hospital bills.
Difficulty Level: Millionaire CEO
Adam Drake, the enigmatic auction winner, is a software prodigy who made his first million at seventeen. Now, in his mid-twenties, he's sexy, driven and--as CEO of his own gaming company--he's used to making the rules. Before Mia knows what's happening, he's found the loophole in the rules of her auction. Every stipulation she's made to protect her heart gets tossed by the wayside.
She can't tell if he's playing her...or if he's playing for keeps.
.
-
Goodreads.com
I was luckily enough to get this book free off amazon kindle. One of my friends posted up saying it was free (I think it still is) and after reading the premise I was instantly intrigued.
The basis of the story is about Mia and the fact that at 22 she's ready to be rid of her virginity, but instead of just losing it the old fashioned way. She decides to auction off her virginity to the highest bidder. Ok…ok, I can just imagine what you are thinking, W.T.F. But to be honest I was interested in how this was all going to play out. The reason she decides to auction it off, is because she is in desperate need of money. Firstly she wants to go to medical school, which I can imagine costs a fortune in America, and secondly her mums house is in foreclosure after she got cancer and was unable to work. So I guess her intentions were relatively noble, but still the idea makes me a little squirmy, there are some weirdos out there. Luckily her best friend Heath, helps her out by background checking and approving the final auctioneer for her, obviously ensuring he's not a psychopath, and from there our story takes flight.
My biggest problem with this book, surprisingly wasn't the content. I actually enjoyed the majority of the first half of the book. The main character was likable, despite her questionable decision around losing her virginity. She was a gamer girl, which helped me connect with her, and she was independent and headstrong.
What I found most annoying occurred around the middle of the book. After flying to Amsterdam with the sexy, young billionaire who won the auction to 'do the deed'. Plans changed and there was no *cough* 'exchange of goods'. At this point it was a plot twist that I enjoyed, however after the 3rd, 4th, 5th time of arranging to lose her virginity and something coming up and it not following through I started to get annoyed. There's only so much sexual tension you can build, before I start to lose interest and think he might be gay.
The ending was conclusive enough, not to need more books in the series. However there are 2 more, and I'm a little puzzled as to where the story is going to go from where it left off. While not a great book, due to its arduously repetitive middle, it kept me relatively entertained throughout and for that it earns 3 stars.
My rating: 3/5