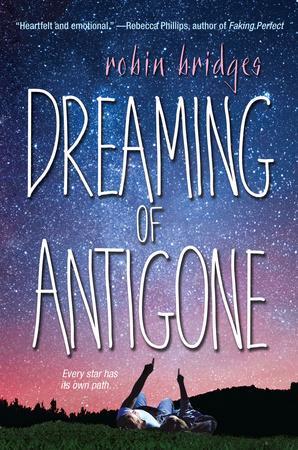 Synopsis
Every star has its own path…
"I can't ever be the blazing star that Iris was. I'm still just a cold, dark satellite orbiting a star that went super nova."
Andria's twin sister, Iris, had adoring friends, a cool boyfriend, a wicked car, and a shelf full of soccer trophies. She had everything, in fact—including a drug problem. Six months after Iris's death, Andria is trying to keep her grades, her friends, and her family from falling apart. But stargazing and books aren't enough to ward off her guilt that she—the freak with the scary illness and all-black wardrobe—is still here when Iris isn't. And then there's Alex Hammond. The boy Andria blames for Iris's death. The boy she's unwittingly started swapping lines of poetry and secrets with, even as she tries to keep hating him.
Heartwrenching, smart, and bold, Dreaming of Antigone is a story about the jagged pieces that lie beneath the surface of the most seemingly perfect life…and how they can fit together to make something wholly unexpected.


My Review
* Many thanks to Kensington Books for providing this ARC in exchange for an honest review. *
The pages were easily turning while I read this one. The characters were easy to empathise with and didn't feel fake or overdone. Andria is your relatively typical teen learning to deal with the aftermath of a devastating event. Her budding feelings for Alex; the boy responsible for her sisters death are met by guilt and shame, but he just seems to understand what she's going through more than anyone else around her.
Both Andria and Alex are damaged characters. Andria has almost always lived in her twin sister's shadow. She was the sickly one, the one who was never allowed to join any of the school teams for fear that she might suffer an 'episode'. Their overprotective mother has always fussed over her, none of them ever realizing that Iris was the one who needed protection. Alex, is recovering from a trip to rehab. In Andrias eyes he is to blame for Iris' overdose and ultimate death, after all he was Iris' boyfriend and the one who got her into drugs in the first place. Hating him comes to her naturally, especially since he is to blame for all the pain caused to her family… and yet she is drawn to him in a way that she shouldn't be.
Half way through this book took a pretty dramatic turn, one I definitely did not see coming. We discover the reality behind Iris's overdose and it's a doozy. From then on the book focuses on the characters coming to terms with this new development and what it means for each of them in relation to Iris' death.
This is the story of two broken teens, who share a common tragic event which draws them together in unexpected ways. While their romance is not an easy one, there is a mutual understanding of one another. We explore the theme of death and the 'survivors' left behind, and get asked the ultimate questions of 'What if I had known? and Would I have been able to stop it?'
My rating: 4/5